2017 No.1 Cubist Series & 2018 No.2 Epic Maple Burl Series
The 2018 No.2 Epic Maple Burl Series of Five Instruments is in stock and available for sale
Emil Ernebro takes the red pine Parlor for a test Drive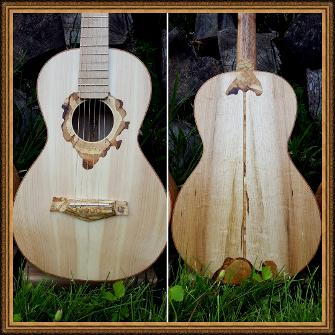 EMB No. 3 of 5 Red Pine Top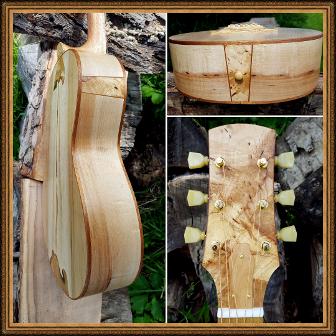 9 Minute Sound Check in Gothenburg, Sweden by World Class Finger-style Player Emil Ernebro .......Just Wow!!!
A Brief History of the EMB No.3/5 "Old Blues Sound" observation by Emil: After finish coating the Red Pine Top Parlor Guitar on a Wednesday with Odies Wax, I strung it up on a Thursday and then flew over night to Sweden with it Friday/Saturday. Next, I took the 3 hour high-speed train from Stockholm to the Gothenburg Central Station on Tuesday morning 6.12.18. Then, I spent the afternoon, sitting on the audience side of the sound hole, smilin' from one ear to the other as Emil made the, "5 days from set-up, never been played before" diminutive, overachieving Parlor SING!! One of Lutherie's greatest Joys. Inspiring the Music of the Player and the Imagination of the Collector.These are built for Joy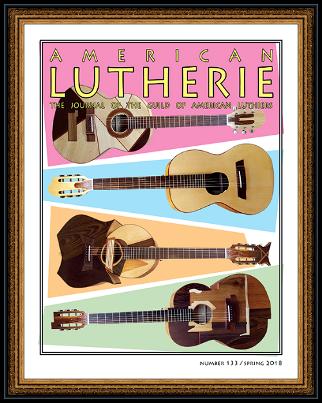 American Lutherie No.133 Spring 2018
The 2017 No.1 Cubist Series . A GOOD surprise !
So Fun........ I wrote an article, "The Pretty Good Setup Tailpiece", for publication in The Guild of American Luthiers Quarterly Journal. Then out of the blue, I received a message from GAL Board of Directors President & Editor Extraordinaire, Tim Olsen. My four Cubist Series guitars are featured on the American Lutherie No.133 Spring 2018 cover ! For a preview and lots of other really GOOD stuff, visit The Guild's website at www.luth.org . I remain honored and proud to be associated, Tim. Gotta love a GOOD surprise.
Cousin Jeff Swanson was in town, February 21, 2016, and stopped by with Uncle Wally for afternoon coffee. All four of the Cubist Guitars where strung and "settling-in" before final setup & finishing. What better time to debut four unique guitar voices that with my amiable Family. Thanks for documenting the event, Jeff!
All (4) of the Cubist Guitar series are in stock & available for sale:
buy all four cubist Guitars and their rough cedar "tree" display base is included at no additional cost.