A Window View Line-up of Current Work In Progress above

Below are some random, unrelated matters "about" Jwa Guitars I trust you will find interesting or entertaining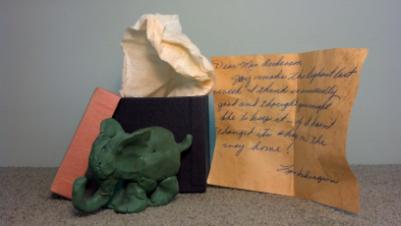 My work is endorsed by numerous high profile personalities. Not the least of which include my mom and 1st grade elementary teacher, Mrs. Sodergren. In the Fall of 2012, my folks sold the family homestead of 50 years . During the move, my mom discovered this fine green model clay Elephant I sculpted in 1959 at the tender age of 6. After saving this piece for 53 years, she delivered it to me, with love, a heart felt blessing of my guitar venture and an endorsement note from another big supporter, Mrs. Sodergren. The note reads, "Dear Mrs. Anderson, Jay made this elephant last week. I think is unusually good and thought you might like to keep it - if it hasn't changed it's shape on the way home!" Lois Sodergren
The pair of tickets that started this guitar thing.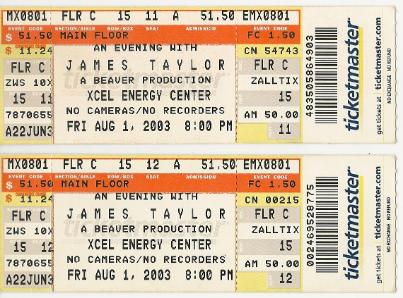 The first Friday in August 2003 I took my lovely wife Wendy to a James Taylor Concert. I'm a big fan. Much of my junior year in high school was spent listening to the Sweet Baby James album, dissecting the various chord progressions, then performing for my affirming friends and family with lots of fervent sincerity but I digress.
After the first set intermission, James returned to the stage and announced to the entire auditorium that all of his guitars are made by a local guitar builder by the name of Jim Olson. I was amazed and then so excited to learn that one of a handful of the finest luthiers on the planet works right here, in Circle Pines, Minnesota.
Monday morning I googled Olson Guitars and made a telephone call. Expecting a receptionist or voice-mail, I was very surprised, when after two or three rings the phone was answered and the voice on the other end said, "Hello this is Jim". The conversation that ensued is a good story for another day. But suffice it to say, forty-five minutes later I was in Jim Olson's guitar shop for the first time. Listening and learning about what it takes to be successful building high-end acoustic guitars. After multiple return trips to the Olson guitar shop and memorable rounds of golf, I have Jim to thank for helping me find my unique way in this practice of Lutherie. Now, these many years later, I count Jim Olson my Inspiration, Mentor and Friend.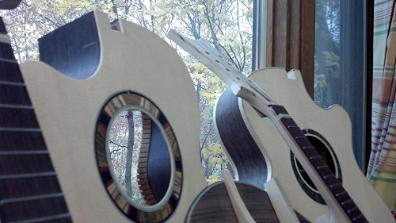 What does a fine acoustic instrument sound like?
Well, I have learned over the years that, it depends.
In 2003, Jim Olson told me that the key to a great guitar is the top. "If you have a good tone wood on the top, you can build the back and sides out of cardboard and it's gonna sound pretty good." (i.e. google Bob Taylor's Pallet Guitar) I asked Jim in November 2012 if he still stood by that statement and he said that he did. He went on to tell about a customer that had waited seven years for his Olson guitar to be delivered. After the guitar was delivered and much to Jim's surprise, the customer called back to say he was so disappointed with his instrument he could not accept it. The problem he explained, it did not sound like an Olson guitar.
James Taylor happen to be in town when the instrument was returned. After hearing the story, James asked to see the guitar that did not sound like an Olson. He played it, loved it, said it was just what he was looking for and bought it on the spot. Now, I'm thinkin' how a guitar sounds may very well be a subjective matter of opinion rather than an objective matter of fact. I'm also thinking this story makes a good case for keeping everybody happy and selling instruments from existing inventory.
In this Season, I've come to appreciate that there is more to life than increasing it's speed.

Nice Autumn Light View from The Shop Window.


No kidding, here's my vintage 1970 Solid White Oak Dulcimer sporting a custom carved mahogany bridge, copper sleeved saddle and duo peace symbol sound holes. Built during the summer after my junior year in high school from plans I made up as I went along, because I was curious, for no other reason than I could.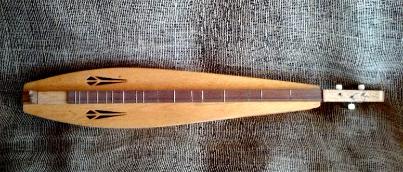 I have always worked this way. Seems I have this need to draw, build, and create stuff. From the day my kindergarten teacher first patted me on the head during Art class and said, "That's really good Jay. You should be an artist". Must Build! With this 2011 investment in my new guitar shop, I'm feelin' like I've made the last career decision of my life. I believe I can see the end from here and I take great comfort in that view. Wrestling the Minnesota weather is startin' to wear me out. I am excited by the prospect of working indoors. On little pieces of wood. Cheers and here's to finishing well.
My two favorite tools: 37" drum sander and 17" band saw.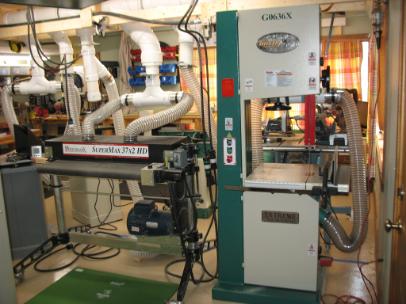 And finally before you go, you are invited with tongue in cheek, to view the epic You Tube video titled: "A Brief History of Jwa Guitars".